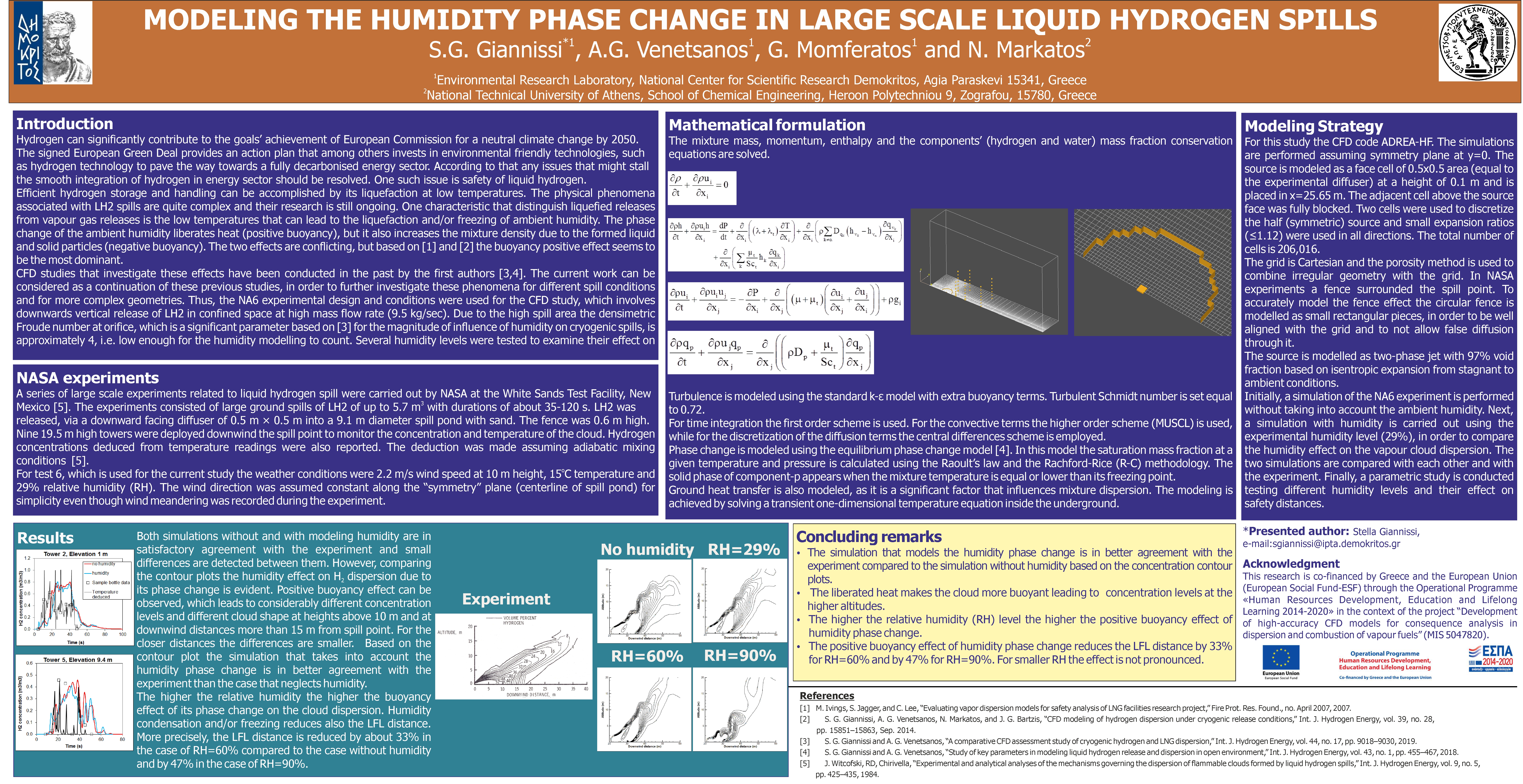 MODELING THE HUMIDITY PHASE CHANGE IN LARGE SCALE LIQUID HYDROGEN SPILLS
Stella Giannissi / Environmental Research Laboratory, National Centre for Scientific Research Demokritos / Greece
STELLA GIANNISSI / ENVIRONMENTAL RESEARCH LABORATORY, NATIONAL CENTRE FOR SCIENTIFIC RESEARCH DEMOKRITOS, 15341 AGHIA PARASKEVI / GREECE
A .G. VENETSANOS / ENVIRONMENTAL RESEARCH LABORATORY, NATIONAL CENTRE FOR SCIENTIFIC RESEARCH DEMOKRITOS, 15341 AGHIA PARASKEVI / GREECE
G. MOMFERATOS / ENVIRONMENTAL RESEARCH LABORATORY, NATIONAL CENTRE FOR SCIENTIFIC RESEARCH DEMOKRITOS, 15341 AGHIA PARASKEVI / GREECE
N. MARKATOS / NATIONAL TECHNICAL UNIVERSITY OF ATHENS, HEROON POLYTECHNIOU / GREECE
Submission Summary:
Hydrogen is considered the future fuel for neutral climate change. Due to its low volumetric energy content
it is commonly stored in liquid state. In case of an accidental leak of liquid hydrogen (LH2) complex
phenomena take place. One of these phenomena that can influence the vapour cloud dispersion and its
subsequent safety features is the liquefaction and even freezing of ambient humidity. This work aims to
investigate the humidity effect on mixture dispersion resulting from LH2 large scale spills and on the safety
distances. For that purpose CFD simulations are performed using the homogeneous mixture model and the
Raoult's law for the phase distribution of the multicomponent, multiphase system. The simulations are based
on the NASA-6 experiment related to LH2 vertical spill in open obstructed environment. Several humidity
levels are tested and the effect of modelling the humidity phase change is examined.
Video: